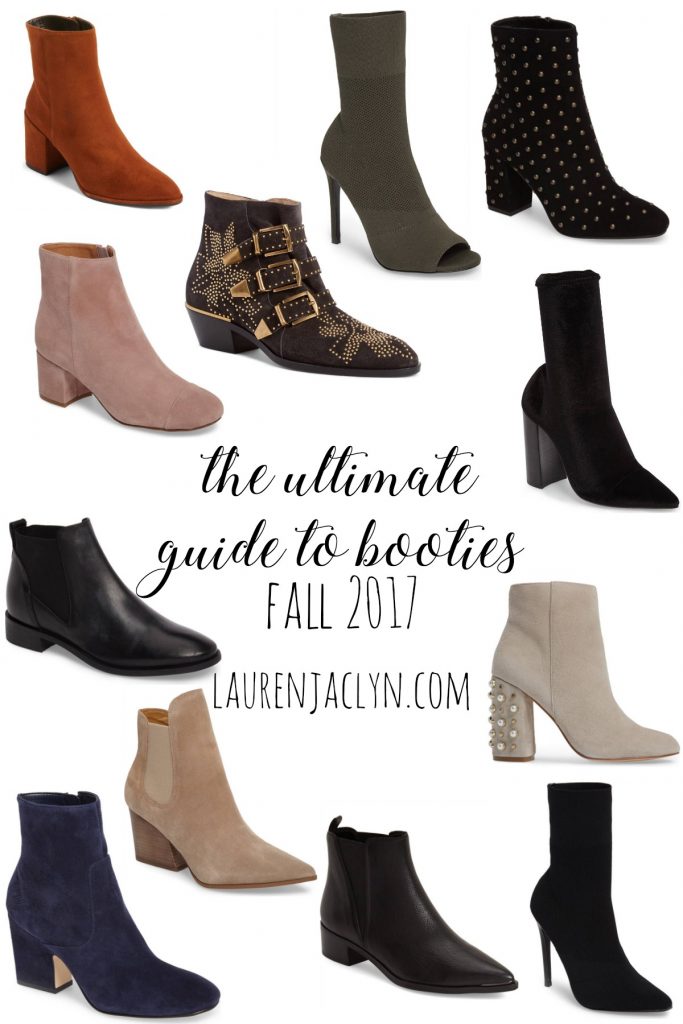 Shoes are arguably my favorite part of every outfit, no matter what time of year it is! In the Fall, there is no limit to how many pairs of booties I will think I need by the end of the season. This year in particular, the shoe gods have really blessed us with trends-a-plenty in the bootie department. (Now if only I could be blessed in the booty department as well haha!) Since there are so many different directions you could go in this season, I wanted to give you the ultimate guide to booties to make shopping as easy as possible. I have picked up a pair of each of these styles for Fall and will be styling them throughout the season so stay tuned for my looks!
Block Heels
There are a few reasons you should be happy these are in style! First of all, they are extremely comfortable because of the thick block base. Gone are the days that you need to be balancing in stilettos just to be on trend, thank God for that. Second of all, block heels are so wearable and classic. Take this opportunity to invest in a high quality pair because block heels aren't going out of style any time soon. You are going to get a ton of wear out of this style, trust me! Block heel booties can be worn with leggings, skinny jeans, leather skirts, and dresses. The possibilities are truly endless!
Chelsea Boots
I don't know who the notorious Chelsea is but boy am I glad she invented these boots! Chelsea boots have been around for ages but this season, they made a huge comeback. They're typically a very casual bootie, characterized by the elastic side panel and ankle-height. Basically, they are the ultimate cool-girl shoe. Just edgy enough but still super wearable. And since they're usually flat – ultra comfortable as well. Win, win, win! I love them paired with skinny jeans or leggings and a leather jacket.
Embellishments
As you can tell by my wide variety of picks, I am loving the embellished trend for booties. Pearls, buckles, studs, and embroidery – yes please! This is the perfect way to add a fun pop to your outfit without even trying. It's an easy trend to throw on with a basic look and head out the door. You will look totally in style but not like you're trying too hard. My favorite way to style this trend is to make it the focal point! For example, these booties with black jeans, a black tee, and dainty gold jewelry – uh huh honey. Or these paired with an all-neutral ensemble – oh em gee.
Sock Booties
I really hate to say this but the Kardashian family kind of put this style on the map! Love them or hate them, they usually know what they're doing when it comes to fashion. Sock booties are essentially booties that look like socks with heels. They're stretchy and fitted all the way from the toe to the ankle (or mid-calf). I love sock booties styled with skirts and dresses – this allows you to show off the booties and take advantage of how they hug your ankles. Pro tip: Make sure you find a pair that hits your leg in the right spot, otherwise it can make your legs appear shorter! Look for a pair that stops at the smallest part of your calf or ankle.
Save