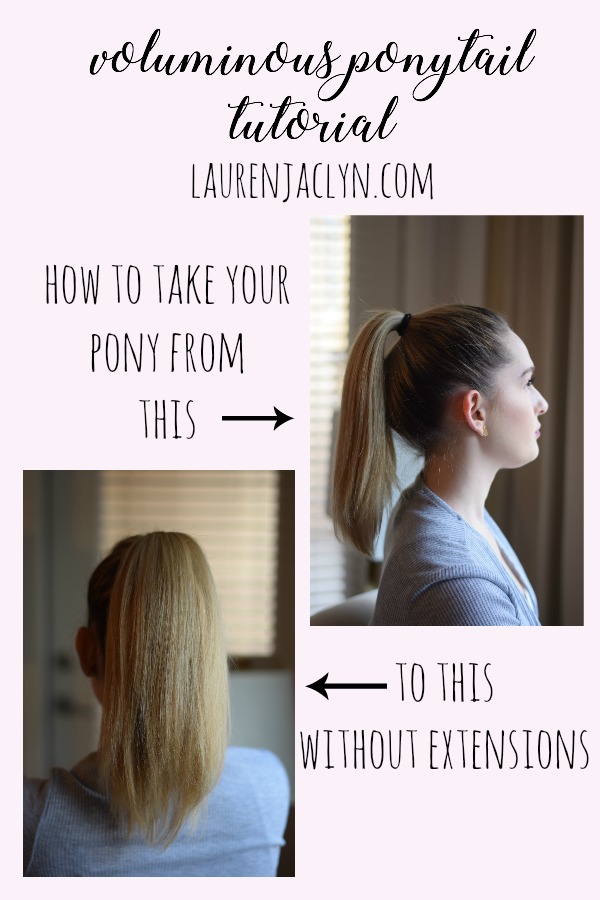 One of my favorite ways to wear my hair is up in a high-pony! But sometimes, a plain old ponytail just isn't glam enough for a particular look or event. My go-to is a teased ponytail, which I did a tutorial for here but when I really want to kick it up a notch and add even more drama, I opt for a double pony. This technique brings your pony from blah to bam – seriously! It adds length, volume, and style without any extensions or heated styling tools. All you'll need for this look is: a detangling brush, teasing brush, two hair elastics and hairspray. Get ready for the most voluminous ponytail you've ever seen!
This is just a personal preference but I like my hair to be completely straight for ponytails. I just prefer the sleek look but if you like it curly or wavy, that's fine too! In fact, curly hair will be much easier to blend together.
Divide your hair into two large sections, using the crown of your head as the guide. Instead of going across the back of the head in a straight horizontal line, arch the section up around the crown so that your top ponytail will have hair to cover the bottom section. This will make more sense as we go on! Pin the top section of hair out of the way.
Pull the entire bottom section of hair into a ponytail as you normally would. Pro-tip: if you're going for an ultra high pony, make this bottom section as high as you possibly can. Doing so will allow the hair to appear as if it's going up and joining the finished look.
Once your bottom ponytail is to your satisfaction, do the same thing with the top section! The goal is to have all of the hair on the sides look like it's heading in the same direction. If your bottom section is straight back, do the same with your top section. If your bottom section is very high, do the same with your top section. Making the ponytails as close together as possible will make them easier to blend at the end.
After you've secured both sections and you like the way the sides are lining up, the key to hiding the bottom pony is teasing! If your hair is too clean or slippery, spray it with a texture spray such as Dry Bar Triple Sec so that it has some gritty texture to it.
Gently tease the entire ponytail, focusing on the top section. Be sure not to pull too hard so that you don't mess up the sides or pull any hairs loose.
Spray with hairspray and fluff the hair as necessary, until the bottom ponytail is completely hidden and both ponytails look like a single entity.
If you'd like the look to seem extra finished and polished, take a small section of hair (about 1/2 inch wide) from the bottom half and wrap it around the elastic band. Secure with a tiny bobby pin.
Shop this post:
Save
Save