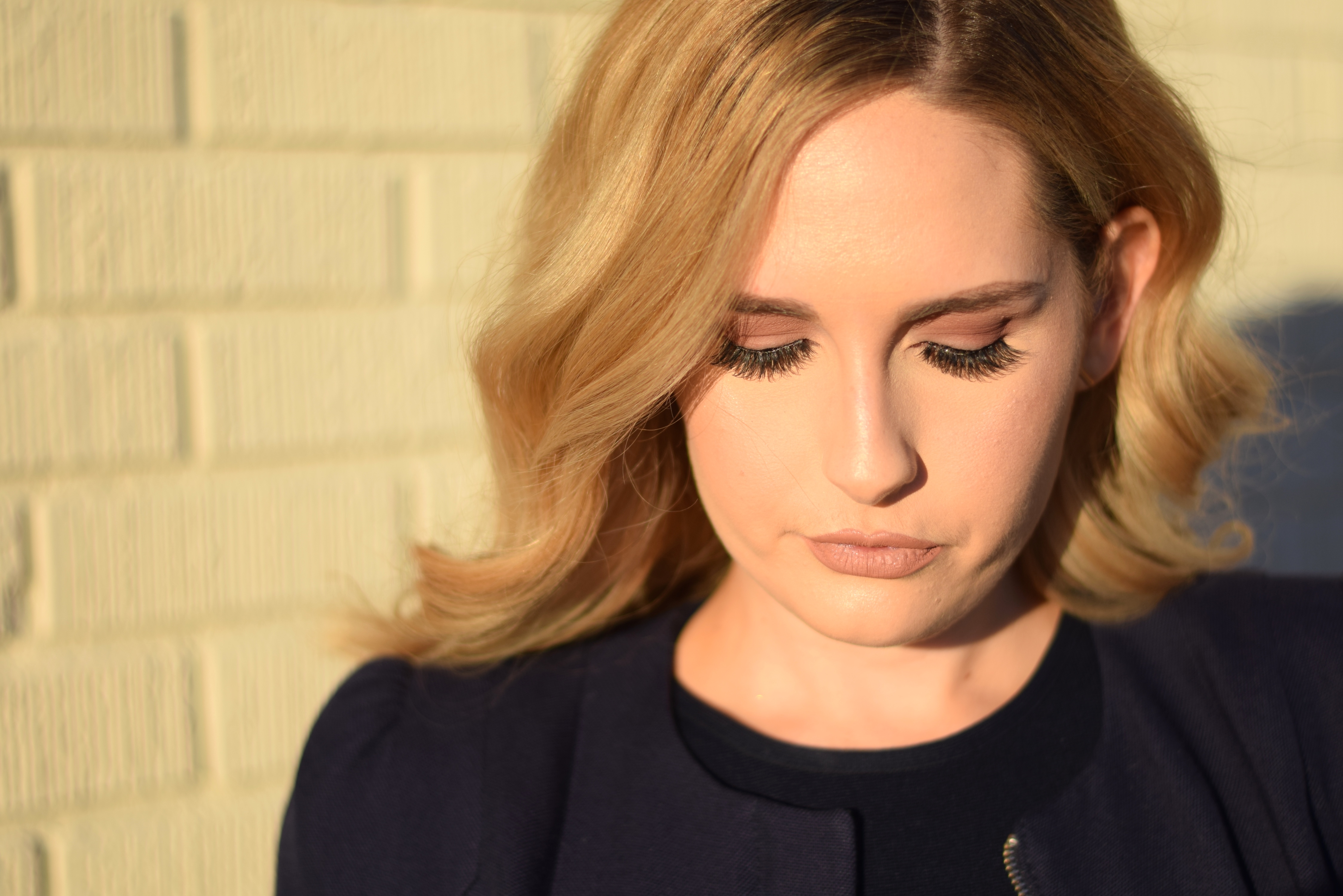 I have been getting a lot of feedback from you guys on Instagram lately (if you don't follow me, my username is @thelaurenjaclyn) which I love! My posts about beauty products and makeup looks always seem to be really popular so I am going to incorporate more things like that! For this look, I decided to do a really subtle smokey eye that is SO easy. Even if you are a beginner with makeup, you can definitely achieve this look! I am going to be listing all of the products I used so that you can follow along and do this look yourself. So perfect for Valentine's Day!
I prepped my skin by cleansing with Shiseido Ibuki Gentle Cleanser and moisturizing with Ole Henriksen Sheer Transformation, which is perfect for use under makeup because it's oil-free!
For my brows, I filled in any sparse areas with my Benefit Precisely My Brow Pencil in shade 4. Use a light hand and hair-like strokes to create a natural look. To make sure my brows stay in place, I used Anastasia Beverly Hills Clear Brow Gel.
For foundation, I used the Makeup Forever Ultra HD Stick Foundation in the shade 120 and blended it out using a damp Real Techniques sponge. This is such a great dupe for the Beauty Blender!
I really wanted my under eyes to be bright and awake for this look so I applied a tiny amount (literally smaller than a grain of rice) of IT Cosmetics Bye, Bye Undereye to make sure any darkness was completely covered and then applied Tarte Shape Tape Concealer over that. I blended both concealers out with the damp Real Techniques Sponge.
To set my under eyes, I dipped my sponge into RCMA No Color Powder and applied a thin layer everywhere that I applied concealer. With a fluffy brush, dust the translucent powder away when you're ready.
I primed my eyelids with the MAC 24-Hour Extend Eye Base and set it quickly with a little bit of the translucent powder or an ivory, bone colored shadow so that the rest of your shadows can blend in more easily.
To create a nice base for my smokey shadows to blend into, I applied Warm Taupe from Anastasia Beverly Hills into the crease with a Morphe M505. Blend this in a windshield wiper motion until there are no harsh lines.
In order to define my crease a bit more, I used Dusty Rose by Anastasia Beverly Hills. I applied this with my Morphe M433 – which is perfect because it's a tapered blending brush. This will allow you to be a little bit more precise but still achieve a blended, blown out color.
I wanted to add some more drama to the outer corner so I opted for Bitten by Makeup Geek using the Morphe M507. This is a tiny blending brush so it won't apply too much product and make the look too smokey or dramatic.
On the lower lash line, I applied a light layer of Dusty Rose with the M507 to create a nice, blended look as a base for the darker color. Then I blended some Bitten with the E35 as close to the lash line as possible. If it looks too harsh, go back in with the M507 and blend everything again!
To complete the eyes, I curled my top lashes and coated them with Too Faced Better Than Sex Mascara. For my bottom lashes, I used MAC Extended Play Gigablack Lash because the wand is tiny and it's great for lengthening. Also, the Gigablack doesn't transfer which is essential for the lower lashes. Let the mascara dry before applying false lashes!
While my mascara dried, I finished the rest of my face by contouring and highlighting. To bronze up the face and add a slight contour, I used the middle contour shade in the Kat Von D Shade Light Palette. I applied this under my cheekbones, along the edges of my hairline and a little bit down my neck with the Morphe M527 brush.
To add a bit of glow, I used the cult-classic MAC Mineralize Skinfinish in Soft and Gentle with my M501 brush. Apply this on the tops of your cheekbones, down the bridge of your nose, and along your cupid's bow.
Now that the mascara is dry, I applied Ardell Wispies for a glamorous yet natural look. For a full tutorial on how to apply lashes, check out my post here.
For lips, I lined my lips with NYX Lip Liner in Natural and then applied Anastasia Beverly Hills Liquid Lipstick in Pure Hollywood. To make sure this will stay in place all night, apply the liquid lipstick along the edges of the lips and then fill in the rest of the lips with a single swipe. Don't put your lips together! This will cause the product to transfer. Once the product dries completely, you're free to do whatever you want and your lipstick will stay flawless.
To finish the look, close your eyes and spritz your entire face with MAC Prep and Prime Fix+. This will add a bit of dewiness and allow the powders to melt into the skin and look more natural. I love this stuff!
Shop this post: