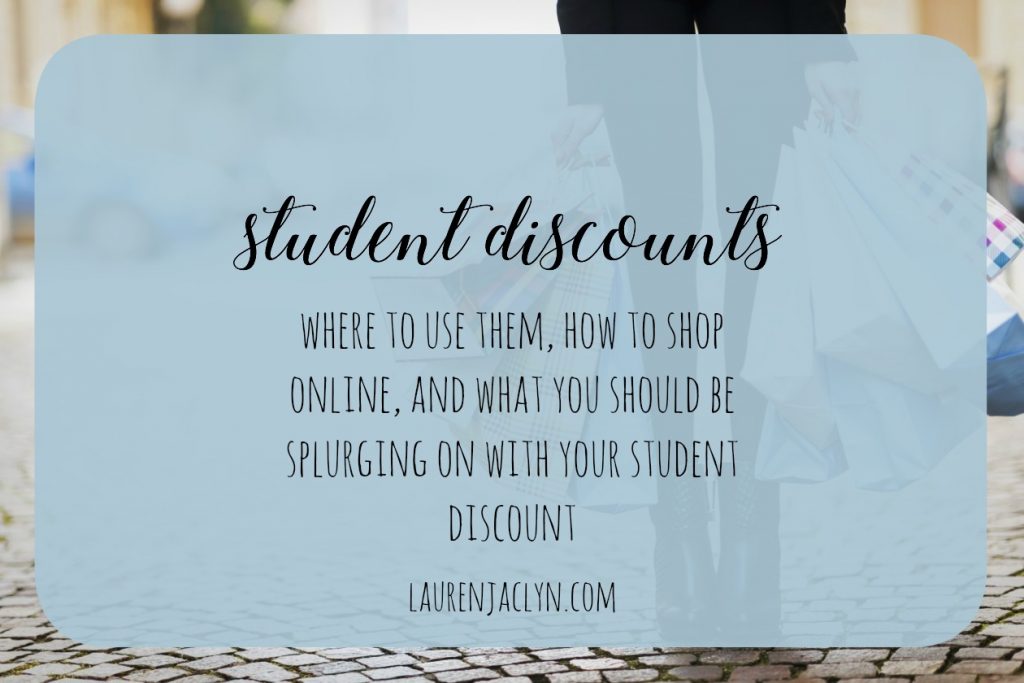 Being a student means a lot of things: late night study sessions, consuming your body weight in pizza, and poor decision making, just to name a few. One of the best parts of being a student is all the discounts you can get, simply by going to school! A valid student ID is basically the best coupon you could ever get because it works at so many different places. I didn't even know about most of these discounts while I was in school – why didn't anyone tell me?! To save you from feeling the same way post-grad, I am sharing all the best places to whip out your student ID!
First, let me explain a website called UNIdays! This is going to be the key to using your student discount privileges online, which is how we shop most of the time anyway. All you have to do is sign up for UNIdays using your student email address ending in ".edu". This allows the site to verify that you're an active student so that they can give you all the discount codes!
One of my absolute favorite places to shop, ASOS.com has everything from formal dresses to pajamas to sneakers. They offer 10% off full priced online orders via UNIdays! This discount definitely adds up when you buy as much stuff as I do on there. Just being honest!
Okay, I had no idea this discount existed until it was too late for me. But if you're a student, you can still take advantage! Forever 21 gives 10% off full priced online orders, via Student Beans (a website very similar to UNIdays!). First of all, if you've never shopped online at F21, do it. It's basically like a super organized F21 shopping experience. What more could you ask for?!
This store offers 15% off full priced, in-store purchases! All you have to do is present a valid student ID at checkout and boom – discount applied! This is the perfect place to shop for interview outfits or work clothes. But don't count them out for casual wear – they have great classic pieces. Oh, and if you're a teacher, you're in luck! They also extend this discount to all educators with a valid ID.
J.Crew and J.Crew Factory
This is one discount that I actually have taken advantage of. Multiple times over the years! The J.Crew incorporation offers 15% off to students (and teachers) in-store. At J.Crew, some of the pieces are quite pricey so 15% off makes a huge difference. Consider purchasing things like cashmere, leather goods, and suits – things that don't go on sale often. When you're shopping at J.Crew Factory, which already has super discounted items, 15% is huge. I have scored amazing pieces here for under $10 thanks to this discount.
Who knew?! TopShop gives 10% off, in store and online! If you're trying to use the discount in store, present your valid ID at checkout. If you're trying to use the discount online, use your unique UNIdays code!
Another one of the shops I frequent, Missguided gives one of the most generous student discounts. When you use your UNIdays, you receive 40% off online purchases! It is literally worth signing up for UNIdays just for this discount code.
I've featured Tobi on my blog before (here, here, and here) – it has been one of my go-to shops since college. Tobi offers 30% off your order when using your UNIdays code. Amazing! That just means you can get even more stuff. That's how I see discounts, anyway!
As a sister brand of J.Crew, it is no surprise that Madewell also honors student discounts! When purchasing in-store, you will receive 15% off when you present a valid student ID. This is an amazing place to stock up on high-quality denim and leather accessories, which we can always use a discount on.
I haven't actually ordered anything from here yet but I've been dying to! BooHoo has the cutest stuff at super reasonable prices. Think of it as a mix between Forever 21 and Missguided. And get this – BooHoo gives a 55% discount to all students when using their UNIdays code online.
Rag + bone is a shop I am constantly swooning over. They have unbelievable leather goods – super high quality and always right on trend. And don't even get me started on their hats – I literally drool over them. Side note: one Christmas, my brother (possibly the least fashion-aware person on this Earth) got a rag + bone cashmere beanie as a gift and I've never been so jealous of a man's gift in my life. Too bad my mom isn't a student because she could have gotten 15% off her online purchase of that amazing gift for my brother.
If you've never actually had your hands on anything from Wildfox, you need to. Not only is their stuff so cute, the fabric literally feels like butter. Because the quality is so high, the prices can be quite steep, especially for loungewear. But if you're a student, feel free to use your UNIdays code to get 15% off your online purchase and be the cutest (and comfiest) girl on campus.
I am obsessed with this brand! First of all, they have a ton of dresses so if you've never shopped here for a formal event, give it a try! Second of all, SMYM probably makes the best rompers in the business. Their patterns and prints are literally too cute to handle and their inventory is high-quality. Use your UNIdays code for 10% off your online purchase.
My family and I have been shopping here for years. I remember when BCBG Max Azria's sister store first opened up and my aunt Patti and I nearly lost our minds. They have a lot of super trendy pieces at a pretty reasonable price. You can get 30% off your online purchase with a UNIdays code. Such a great place to look for date night outfits, formal dresses, and amazing shoes.
Have you used a student discount at any of these shops? Did I miss any important ones?!
Save