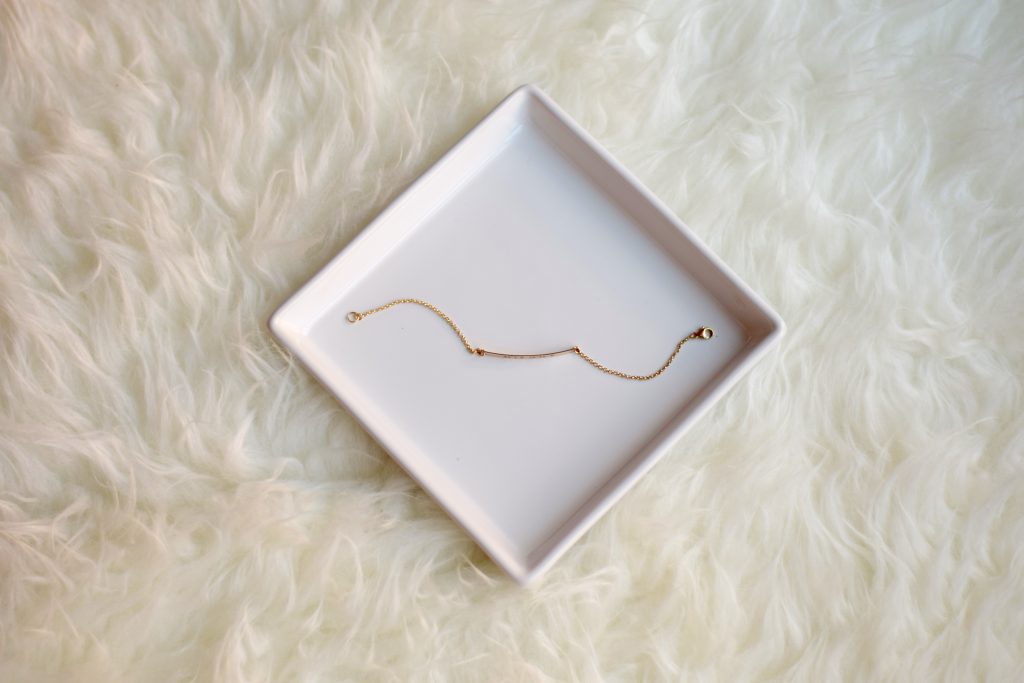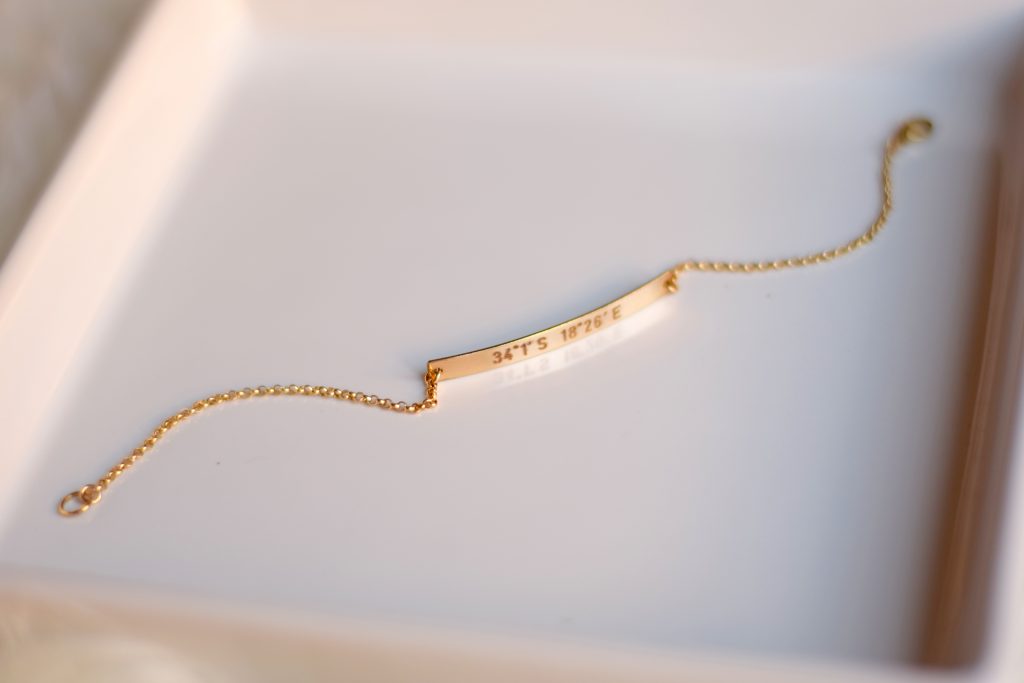 As a girl who has an aversion to most graphic tees, I have to find another way to wear something that truly makes a "statement." In the recent months, I have become absolutely enamored with dainty jewelry that speaks for itself. A tasteful piece of jewelry that is attractive all on its own but also has deep meaning is right up my alley. At first glance, these pieces will just look like delicate accessories but the story behind them is what really makes them special. It is an understated and timeless way of expressing yourself. Jewelry with meaning is the perfect gift for anyone in your life, even yourself!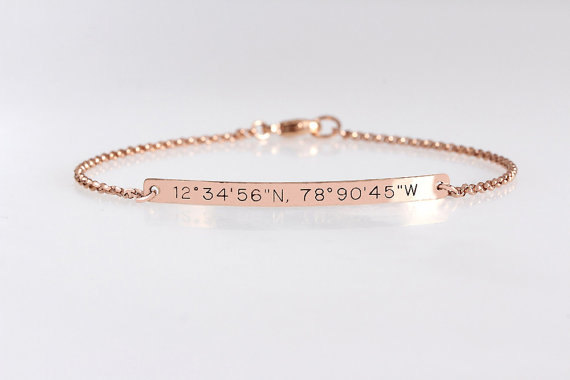 Home Is Where The Heart Is
When shopping for a Mother's Day gift for my mom, who had been missing her home country of South Africa even more than usual, I found this stunning coordinates bracelet that I could customize with any location I wanted. I chose the coordinates of her beloved childhood home so that she could always carry a little piece of home around with her, no matter where she was.  I loved this bracelet so much that I ended up getting one for myself! The best gifts to give are the one you really want for yourself, right? This gold filled piece looks incredibly expensive, despite its reasonable price tag (listed at $25).
This would be a great gift idea for:
A bride-to-be, with the coordinates of the wedding ceremony location or engagement site
A new parent, with the coordinates of where their baby was born
A friend or family member who just lost a loved one, with the coordinates of their loved one's resting place
A significant other for an anniversary, with the coordinates of your first date, first kiss, etc.
A recent graduate, with the coordinates of their college campus
A new homeowner, with the coordinates of their new home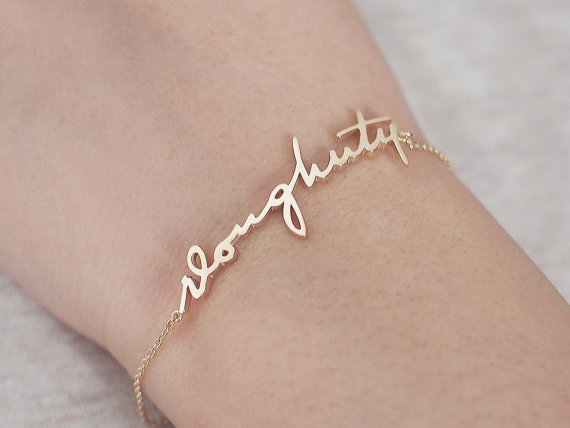 (Hand)writing
Another sentimental piece that I am eyeing is this handwriting bracelet that can be specially made to say anything in any writing. What I want is my grandfather's handwriting saying "all my love" that I found in a letter he wrote to my Nonna (Italian for "grandmother") when they were young. My grandparents were both so special to me and I didn't get to spend nearly enough time with them here on Earth so it's important for me to be able to acknowledge their presence and "all their love" in my daily life. The fact that I would be able to have his actual handwriting made into this special piece of jewelry is amazing to me. I cannot wait to order one of these so that I can think of the love he and my Nonna  shared every time I look at it. All you do is send in a photo of the handwriting you want to be copied and the Etsy shop owner does the rest.
This would be a great gift idea for:
A bride, with an excerpt from your handwritten wedding vows
A friend, with a special name or saying between the two of you in your handwriting
A friend or family member, with the handwriting of someone who has passed away
A significant other, with a sweet nothing written in your handwriting
A parent, with an "I love you" in their child's handwriting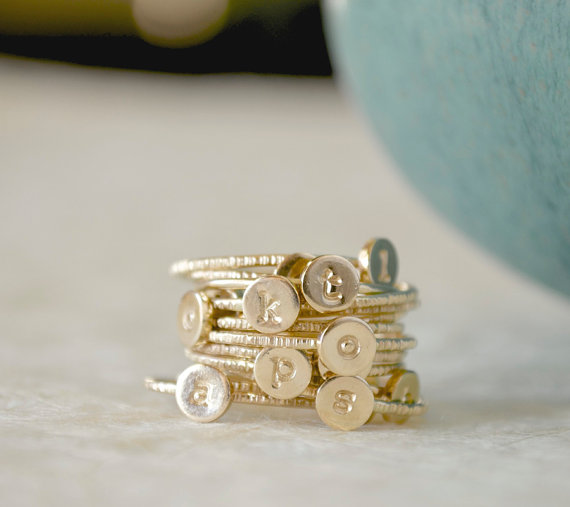 Love Letters
These stacking rings are so gorgeous. They can be order in any quantity (this particular listing is for a set of three) to fit your needs. Each ring is gold filled and hand-stamped which means these are going to last forever – the gold filling makes them extra durable and resistant to tarnishing and color changing without being too expensive. I love the idea of stacking rings – they're so fine on their own but when you wear them all together, they're able to make a statement and seem more significant on even the tiniest hands.
These would be a great gift idea for:
A parent, with the initials of all of their children
Yourself, with your first, middle, and last initial
A significant other, with your initial, a heart, and their initial
A bride, with her new initials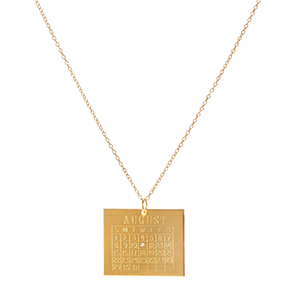 Diamond Marks the Date
I love this piece because it is so unique – I've never seen anything like it. This particular necklace has a thin chain, in the material and color of your choice, embellished with a tiny calendar to mark a date that has special meaning to you. You choose your month and date, and whichever date is chosen has a tiny diamond instead of the number. So chic! This piece is also extra special to me because the shop is owned by a good friend of mine from high school, Stephanie. Total #girlboss – check her online shop out!
This would be a great gift idea for:
A bride, with the date of her wedding marked
A significant other, with the date of your anniversary marked
A new parent, with their new baby's birth date marked
A new business owner, with their new launch date marked
What is your favorite way to wear something sentimental?
Save
Save
Save