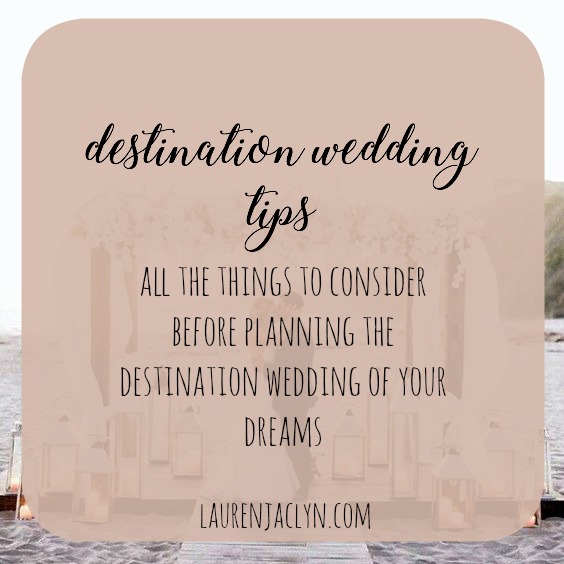 Destination weddings have become more and more popular over the years. So many couples live far away from their family (like Andrew and I do!) or want a neutral location to host their big day at! This is such a fun way to make your wedding into a lasting celebration. Since there is travel involved, this automatically turns your wedding into a full vacation with all of your friends and loved ones. Some people only consider exotic locations as a "destination wedding" but I would consider it any location that the majority of the wedding has to travel for. Whether it's a destination for the bride and groom or a destination for all of the wedding guests, there are certain things to consider while planning a destination wedding!
Meaningful Spot
Before you even decide on your final location, try to think of somewhere that is really meaningful to you and your partner. It will be a lot more special to be married in a location that already has a place in your heart. Also, if you and your partner already love the place, you're likely to know more about it which we will chat more about later! Always be practical, though! Before booking anything, make sure that your destination has enough accommodations and activities for all of your guests while they are in town.
In-Town Transportation
Especially if most of your guests will be flying in, you have to consider how they will be getting around town throughout their stay. Since everyone is already spending a large amount of money just to get to your location, you should consider providing transportation to and from their hotels. That definitely doesn't mean you need to rent a car for every guest – that would be astronomical. The easiest way to do this is to suggest one or two nearby hotels for all of your guests and provide shuttles to all of the wedding festivities from there. This will be one less thing for your guests to worry about and spend money on. Trust me, they will appreciate it!
Weather Forecasting
This sounds like a total no-brainer but it's especially important to forecast weather when it's somewhere you don't live. Even if you've visited during that month before, make sure to do extensive research before booking your destination wedding. Look up what the high, low, and average temperature is on your date. In my opinion, you should expect the absolute worst so that you can be totally prepared. If you definitely want to get married somewhere warm but the weather is occasionally in the 50's during your month, you may want to reconsider your location!
Be Very Familiar
I do not recommend getting married somewhere you've never been before. No matter how beautiful Bora Bora looks online or how many sweet stories you've heard about Charleston, SC, you need to see it for yourself to make sure it feels right. Maybe the weather is not like you thought it would be or the food scene is less than average – these are things you will never know unless you've been before. Trust me, you don't want to plan an entire wedding around a destination that you end up hating.
Bride and Tour Guide
I know, I know, you already have so much on your plate as a bride but if you're planning a destination wedding, you also need to act as the tour guide. That doesn't mean you need to be giving a guided tour while holding a flag up on your wedding day but you should at least be suggesting restaurants, activities, and hotels. The best way to do this is on your wedding website! I will be doing an entire post on setting up your wedding website, so stay tuned. This will act as a central resource that you can update for your guests to reference. This would be a great responsibility to give your fiance to take over! In my case, Andrew is the absolute best at choosing restaurants and scoping out fun locations. No one tell him but I think this may turn into his wedding job!
Hire a Local Coordinator
I've already spoken about whether or not you should hire a wedding planner here but things are a bit different with a destination wedding. In this case, I would highly recommend hiring someone who is local to your destination. This will come in handy when you need vendor recommendations or have local tax or law questions. Things can vary greatly depending on your location so you're going to be really happy to have someone who is used to hosting events in that city to turn to. Make sure that you do your research before hiring your planner, though! Since you won't be able to be there in person, you should trust this person implicitly to execute your vision.
Face to Face
This may not always be possible but I cannot stress enough how important it is to meet your vendors in person before hiring them. The best way to do this is by planning a trip to your destination that is exclusively for venue hunting and vendor meetings. Do your research beforehand so that you have a list of favorites ready to choose from. It will also be super handy to make appointments ahead of time for all the consultations! Many vendors are used to working with brides from far away, by email and phone, but there is nothing that can take the place of meeting in person. This will give you a much better feel for their style and quality of work.
Image source: Instagram
Are you having a destination wedding? If so, where?!