It's officially 2018 and I'm so happy to be back chatting with all of you! I hope you all had a lovely holiday, filled with lots of love, laughter, treats, blessings, and fun presents. Last year right after Christmas, I did this post featuring all of my Christmas gifts. It was a hit! I asked on Instagram stories (follow me here!) if you were interested in seeing my Christmas gifts again this year – and let's just say, it was a definite yes! Just like every other year – my family and friends nailed it with the gifts. I really loved every single item that I received. Hopefully they love the items that I gifted them just as much!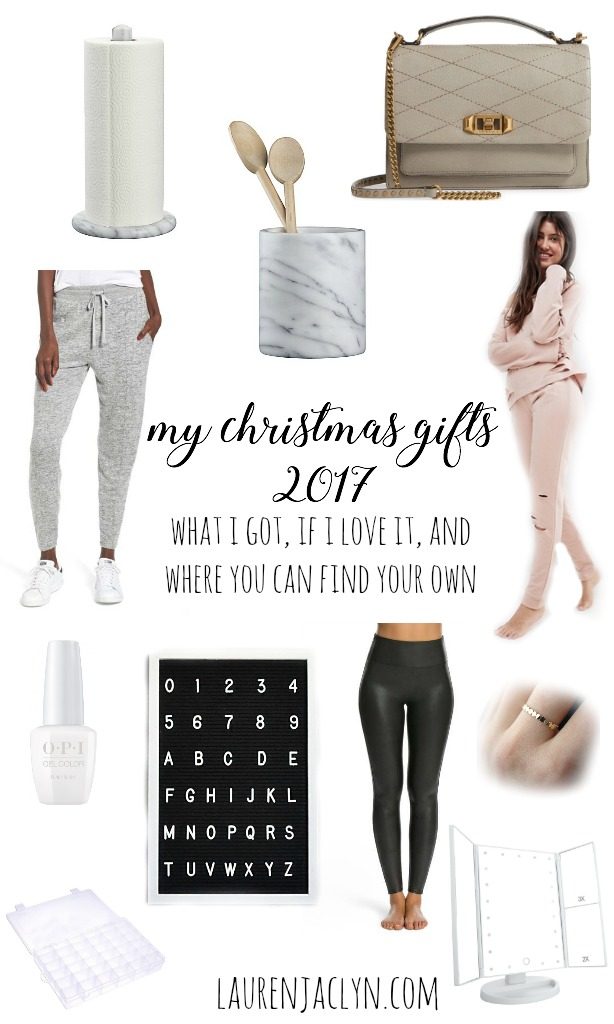 The biggest thing I got this year was this Rebecca Minkoff bag – it's a true beauty. I got this neutral color (mainly because of the brushed gold hardware!) – it's the perfect shade if you're looking for a true neutral bag for Fall/Winter. The bag comes in 5 colors total – one more gorgeous than the next! I am obsessed with the blush color (should that be next on my wishlist?). Another gift that I'm dying over is my new Spanx leggings, which I have been eyeing for months. They're flattering, comfortable, and on trend – what more could a girl ask for? Speaking of comfortable – these joggers (similar pair here) that I included in one of my gift guides were under the tree this year. I cannot even tell you how soft they are – it's literally like butter against your skin. I love that they're a little bit elevated from pajama pants (aka you can wear them in public) but still so cozy. Pair them with cute sneakers and a slouchy pullover for the perfect athleisure look. This cute set (pants and sweatshirt) is to die for – the distressed detailing is my favorite part. Side note: is the excessive amount of loungewear and comfy clothes that I received (and wanted!) alarming to anyone else? No? Just me? Perfect. One of my favorite gifts of all (that doesn't fall in the leisure category) is this dainty ring from my aunt Patti. It's handmade, 14K gold filled, and perfect for stacking. I literally haven't taken it off since Christmas morning.
On to the things for the home – this French marble canister and paper towel holder are the cutest. My cousin Taryn bought our Christmas gifts from our wedding registry – genius! Another gift for the home that I can't stop using is my new felt letter board! This one comes with 500+ letters and symbols so you can write anything. So cute in a kitchen, office, nursery – basically anywhere. I am using it as a wedding countdown right now (99 days from today – ahhhh)! After this arrived and I got all the letters organized, I realized I needed something to store the tiny pieces in. I got two of these so that I can easily sort and find the pieces I need when I need them. Highly recommend if you have a letter board! And now for the final category – beauty gifts! Since I don't have a bathroom with great lighting, I usually get ready in my office with a rigged mirror setup. So annoying! That's where this mirror comes in – it has built in lighting, different magnifications, and stands up on its own. Such an upgrade from my previous setup, trust me! Cannot wait to get ready using this mirror. The next gift is something I can't believe have gone this long without owning. Funny Bunny by OPI is my absolute favorite neutral nail polish color. As you may know, I do all of my gel manicures at home (I did a full blog post on it here!) so having my favorite color ever just makes sense.
What did all of you get for Christmas?!